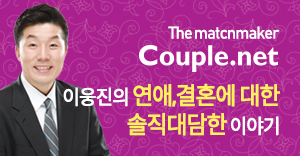 이웅진의 결혼이야기
Since1991.
누구를 만나 결혼하느냐에 따라 인생의 방향이 결정되기도 합니다. 이웅진의 26년차 결혼이야기를 통해 인연의 중요성과 결혼의 행복함을 이야기하고자 합니다. 그동안 쌓아둔 26년이 연애의 노하우를 알려드립니다.
홈페이지:
http://usa.couple.net

Global Lovestory] I have been a date coach for a 40 year old woman.

04/26/2018 07:53 pm
조회 : 1,663
Men are too much calculative of benefits and losses in dating. They try to scan me, grasp me, and control me. When I was in college, things were different. I think I am not accustomed to such a situation."
"I think it's natural. If men of your age are not calculative of the dating, they are hypocrite. Besides, the more they show genuineness, the more they are hypocritical. The wedlock needs be done when you did not know what the marriage is. As people get old, they get to know more of the opposite sex, find more shortcomings, and thus the marriage gets more difficult. When people find the shortcomings about their partners, it seems like that they are calculative."
A 40 year old woman asked me to be her date coach.
She called me today. She wanted to know too many things about men as she is starting to date men. She became a woman of profession at 41 years old by spending her entire twenties/thirties in studying and working. She is, however, like a teenager as far as dating is concerned.
I found out that she was a real virgin. Do you think that there is still virginity around? I think there are, and there may be many. She has her own home, gained upper level social status, and now she is trying to meet dating partners.
Around 5 months ago, she asked me to be her date coach. I introduced 10 men, and asked her to meet all of them, and if there is anyone of her liking, I recommended her to meet those multiple times. She was worried it may be sitting on a fence. I thought that she was a blind in meeting partners. She did not meet partners for such a long time, and I thought that she needs sort of training in meeting partners. When she has experience in dating, it would be easier for her to select a good man.
Five months passed awhile, and she called me after having dated 4 men.
"Men want to hold my hand right from the beginning. I do not think that intimacy should be that way. Am I a blockhead? How should I behave when my partner shows intimate behaviors?"
"Do as you like. I think that is the only correct answer for you. It is up to you whether you accept his intimate behaviors. You do not need to consider your partners intentions anyways. In male-female relationship, the ratio of mental and physical stuffs is 50:50. If you love your partner, it is natural that your physical body follows your mind. Do not stick to it. Don't you think that it was waste of time that you have been single so far? If you do not do your best right now, the only thing that you will harvest will be the regret. If you are interested in the opposite sex, it is the precious gift that God has given you.

After she has met four men in 5 months,

"Even though I called him, he does not get the phone in the weekend or holidays. I feel that he dodge me. Why? I get angry when he evades me when I want to see him."
"Do not worry about it. It is natural that a man of your age has female friends. You are the same on this point. The libertine privacy you and he spent so far made such things. As time passes by, things would correct themselves. If he only wants to meet me, it would be the best. You have not, however, known him for a long time. The more you think about these stuffs, the more you lose. Besides, men are born to be like an animal that seeks another mate after having it with a mate. They run away if you chase them, and come back when you don't chase them. Make use of this natural rule."
She told me that one of her date partners was her junior by two years. I presumed that she liked him.
"I think I like him. So I want to do my best. He looked, however, kind of cold and apathetic. I am worried if he does not like me."
"Spend your money more. His face will get brightened. You have the financial capacity to do that, don't you? When he pays once for dating, you need pay two or three times. You will be loved by him. He doesn't need your money necessarily, but I think he surely has sort of expectations about you. This is a strategy of dating loves."
This time I spoke to her.
"It is all right to have multiple partners. But there are things never to be done."
"What's that?"
"It is about money. No matter how you may love a man, never get involved in business regarding money. You can do as you please except this thing. You are seeking to find a good man by falling in love with him or by making love with him."
I was much tired after talking with her more than an hour even though she seemed to go on more. Hence, I excused myself. I think she will call me again tomorrow because a 41 year old woman needs a good dating coach.
DISCLAIMERS: 이 글은 각 칼럼니스트가 직접 작성한 글로 내용에 대한 모든 책임은 작성자에게 있으며, 이 내용을 본 후 결정한 판단에 대한 책임은 게시물을 본 이용자 본인에게 있습니다. 라디오코리아는 이 글에 대한 내용을 보증하지 않으며, 이 정보를 사용하여 발생하는 결과에 대하여 어떠한 책임도 지지 않습니다. This column is written by the columnist, and the author is responsible for all its contents. The user is responsible for the judgment made after viewing the contents. Radio Korea does not endorse the contents of this article and assumes no responsibility for the consequences of using this information.
DISCLAIMER : 이 칼럼의 글은 해당 칼럼니스트가 직접 작성한 글로 내용에 대한 모든 책임은 작성자에게 있으며, 이 내용을 본 후 결정한 판단에 대한 책임은 게시물을 본 이용자 본인에게 있습니다. 라디오코리아는 이 글에 대한 내용을 보증하지 않으며, 이 정보를 사용하여 발생하는 결과에 대하여 어떠한 책임도 지지 않습니다.