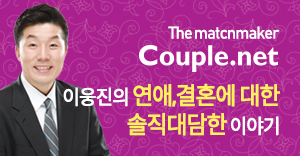 이웅진의 결혼이야기
Since1991.
누구를 만나 결혼하느냐에 따라 인생의 방향이 결정되기도 합니다. 이웅진의 26년차 결혼이야기를 통해 인연의 중요성과 결혼의 행복함을 이야기하고자 합니다. 그동안 쌓아둔 26년이 연애의 노하우를 알려드립니다.
홈페이지:
http://usa.couple.net

[Global Love Story] The wicked beauty being a Cinderella!

04/10/2018 10:23 pm
조회 : 1,664
The wicked beauty being a Cinderella!
"The femme fatal"
A while ago, there was a case that a couple manager had to submit a written apology as the manager's dual contract with a female member had been revealed. In principle, managers must not receive any kind of extra reward or honorarium from their members, but it turned out that the manager asked the female member an extra reward. The case had been known to the firm after the female member submitted the written complaint. But the reactions of the managers were quite interesting: they regretted, but at the same time, they complained about the female member as well.

The female member, whom I have also met previously, joined the membership a year ago. It was known that she, an early 30's stylish and attractive lady with a college degree, was incredibly nice to her managers. After she and her managers had enough trust relationship, she suggested that she would give her managers extra reward if she would find theright person. The managers trusted her and arranged the best male partners for her because she was always a super-nice lady to them.

She eventually met a 2nd generation entrepreneur and married him abroad. The managers asked the extra reward as she promised, but she rejected the request. It turned out that the parents of her husband had asked the managers about her faults and shortcomings, and the managers briefly answered the questions. The mother could not be oblivious to her "faults and shortcomings" and made her son figure out the details. Unfortunately, she had come to know what was going on around her and, out of anger, revealed everything.

For the past one year, she had been arranged with many different partners. Those gentlemen who met her all wanted to date her again, but she rejected them all. In many cases, clients complain when their dating or arrangements are not going OK. But as for her, she had never complained nor challenged, rather, she did her best for every dating and rejected her partners politely every time.

She even expressed her gratitude for the arrangements. Now I come to think of it, she patiently controlled her emotion to achieve her final goal. In fact, she was not an easy lady for the managers to deal with. Was it a waste of time for her? I don't think so, because she could "train" herself as she met many different partners.

She had nothing but looks

In fact, based on her conditions, she could not really attract male partners. Besides her outward appearance, she did not have any factors that can appeal to males. But, there is something that we did not know about, which is her aggressiveness and premeditated-ness. She had carefully accumulated trust for the whole year and made the most of the trust in order for her to meet the one whom she had been waiting for.

The managers found someone abroad where people usually did not mind family background and educational background. They highlighted her outward beauty and could introduce her to a Korean American entrepreneur. The mother of the man was opposed to the marriage after she heard about her negative aspects from the managers, but it was too late to persuade her son who had already been captivated by the beauty of the lady.

All of the sudden, the conversation with the lady came to my mind.

"When I was young, I was raised in an indigent family and
could not have a chance to be educated.
Even if my grade was good enough to go to prestigious university,
but I ended up going to the two years college.
And consequently, I could not even find a job I wanted.
Those friends who were not better than me in school could go to good universities
and find jobs they wanted.
So, I made up my mind to put my everything in my marriage.
Because I believed I might not be successful in my career,
but my marriage should be different."

It is not that she just dreamed to be a Cinderella. Including skin care, body care, health and fitness, and even including speech and face expression training, she literally did her best to put her in the highest position in the marriage market. She learned dating techniques and consumed knowledge that had to do with dating.

Technique that moves the man's mind

In addition to this, she was a "master" of mind games. The fact that she easily won her managers' favor was a good example. In fact, it was not hard for her to move man's mind as she makes the most of her experiences and knowledge that she had accumulated in our firm.

Perhaps, people would call her "a wicked woman."
It is true that she gave up trust and lie in order to find the best person for her.
But as a result, she achieved her dream to be a Cinderella.
he was desperate enough to be successful in her marriage and did her best to her dreams come true.

Honestly, I cannot simply blame her, as we live in the world where we are too much selective and calculative to find a lifetime companion. Can we really criticize her who put everything in her marriage?
♥선우공식블로그
http://blog.naver.com/sunoo1111
DISCLAIMERS: 이 글은 각 칼럼니스트가 직접 작성한 글로 내용에 대한 모든 책임은 작성자에게 있으며, 이 내용을 본 후 결정한 판단에 대한 책임은 게시물을 본 이용자 본인에게 있습니다. 라디오코리아는 이 글에 대한 내용을 보증하지 않으며, 이 정보를 사용하여 발생하는 결과에 대하여 어떠한 책임도 지지 않습니다. This column is written by the columnist, and the author is responsible for all its contents. The user is responsible for the judgment made after viewing the contents. Radio Korea does not endorse the contents of this article and assumes no responsibility for the consequences of using this information.
DISCLAIMER : 이 칼럼의 글은 해당 칼럼니스트가 직접 작성한 글로 내용에 대한 모든 책임은 작성자에게 있으며, 이 내용을 본 후 결정한 판단에 대한 책임은 게시물을 본 이용자 본인에게 있습니다. 라디오코리아는 이 글에 대한 내용을 보증하지 않으며, 이 정보를 사용하여 발생하는 결과에 대하여 어떠한 책임도 지지 않습니다.